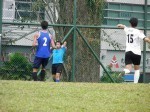 Lione Yeo
Posts: 382
Hey guys, there will be a friendly match against Tom's contact this coming Sunday, the

3rd of February at 5pm

.

The match will be held at Broadrick Secondary School, 5pm

Do take note that the approach we take towards friendly matches differ from normal trainings, in the sense that we will seek to put out the STRONGEST team possible in order to win the game

.

Hence the number of slots available for the game are limited, as well as being open only to regulars. Do take note as well that even if you do sign up for one of the slots, there is no guarantee that you will feature in the match, or if you do, get much playing time, depending on the overall strength of the squad and how the game is going etc. Supporters are always welcome, and if you want to come down to watch the game and cheer on your mates, youre presence will be greatly appreciated.

Feel free to contact me personally, if you have any questions.

We will also be collecting a fee of

$5-8

per player, regardless of whether you play or not. Keep this in mind when signing up for the slots, and remember to bring along excat change to facillitate collection.



For those players who are in the match squad, we will be wearing White on the day, and do take note that there will be training in the morning as well, so I'll leave it up to you guys to decide if you want to risk tiring yourselves in the morning before the match, if you think you can handle a training and the match, by all means please attend both. If you are indeed attending the training in the morning, do bring along your match gear, as there is a high chance of us going somewhere after training to wait for the match.