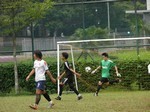 Kent
Posts: 2389
Hey guys,

Our venue for this Sunday at Queenstown is cancelled due to maintenance (not haze).

As such, we are planning to shift the venue to TURF CITY. Due to the short time frame, we need you guys to confirm your attendance by 3pm TODAY. Any further delay, there won't be any alternate pitch left.

Reaffirm your attendance here: http://www.bugisbeatles.com/fixture_sign.asp?ID=527

If we are able to retain an attendance of 26, we will proceed to book Turf City.
Each player will pay $10.

Of course, we are not asking you guys to risk your health if the haze persists or worsen. If the PSI is 100 AND ABOVE, we will only collect $10 from absentees next week but will not mark them as pilot. If PSI is anything below, the usual policy applies.

NOTE: Anyone withdraw from 3pm onwards, we will still be collecting the fee from you if the attendance is below par.

We apologise for the short notice and seek everyone's understanding.