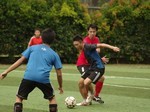 Bale Park
Posts: 1
hi, im bale from korea
before i worked in australia for 2yr.
during working in aus
played soccer via join the club every saturday

and directly came in sg
wanna enjoy the life in sg
although im student but will attend it !

also prefer to AM, CM
cheers

ps. how much is it the membership month fee?