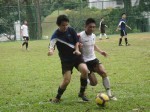 Kent
Posts: 2389
we're quite recently quite blessed with good weather on the day of our game, even though we are in the midst of rainy season.

for those who are new, here's the how we react to the weather change:

1. let's say the game starts at 10am and your area is still raining at around 9am (T-1 hour), it is likely that the game is cancelled. if you are living in extreme end of the island, give a call to the respective organiser and check things out just in case. there are times when central area is completely unaffected by the rain.

2. if the rain stops before 9am, we'll naturally proceed.

3. if you're halfway there and it rains, just go ahead and make the full trip. at most we have our breakfast there and head back home.

4. lastly, take note of the organizer's mobile number. better still, find out your team mates' number as well, in case the main organizer is uncontactable e.g. driving.