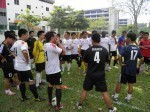 Jonathan
Posts: 93
Hi all Bros,

I would like to extend this Charity Raising Fund from Vios Owner Group Singapore to Bugis Beatles Drivers.

Siglap CC YEC (Youth Executive Committee) is organising a Charity car wash on 22nd Jan, Sat (confirmed) at Bedok South Sec Sch carpark/foyer compound from 9am to 6pm. Mr Abdullah Tamugi, Speaker of Parliament, will be the Guest of Hounor. He will reach around 9.30am.

All proceeds will be donated to APSN (Association for Persons with Special Needs).
The car wash will be done by yec members, volunteers and possibly Bedok South Sec Sch students. Each ticket is at $10 and there will be pre-sale tickets available later this month (December).

Those interested to purchase the tickets pls include your name and phone number.

I will do a meet up at certain location and pass you all the coupon. (TBA)

Do note that it is for charity so do not expect a very thorough wash like those petrol kiosk standard.

PS: this is for charity and i got nothing profitable to earn at all. Smile

Currently from VOGS, These are the members who have registered to help. (I am known as IceveLvet in VOGS)

1) Vessel / Vincent / 9190 0098
2) Forhod / 9049 4366
3) Sweetiievios / Private, you have it
4) IceveLvet / Jonathan / 8448 8005

For original posting please refer to : http://vogs.friendhood.net/club-matters ... t15040.htm

Do give a helping hand to the needy people. If you're free on that day and would love to help, Please continue the list... You help will be loved by the many...