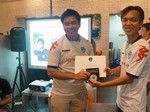 Kent
Posts: 2389
| | |
| --- | --- |
| | Edited on 12-Sep-2005 8:07:21 PM |
quote:


---



Originally posted by Chris:
Eh i dunnoe all the players i wont be able to rate right.
hmmm allow rating of some players instead of all ma.

better for newbies like me.
anyway who is the guy who wore yellow in number 9.
Wonderful fitness. going everywhere. haa my man of the match.

---






yeah, i know its a hindrance when players want to participate in rating but has yet to know the rest of the team.

the reason for not doing that is to prevent any player from being left out when they browse the performance table, considering they played a part in those games.

glad to hear players who keen to rate. in no time, you will know the rest of the team mates to be able to do so.

btw, i think u are refering to kheng fatt (qingfa)? below is his monty shot.